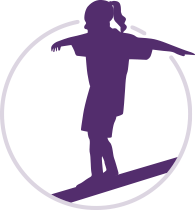 Pre-School Classes
Pre-School – These independent gymnastics classes are for children aged 3 – 4 years. (However we understand that some children may need their parents/ carers to assist them for the first few weeks until they get to know our coaches). We structure each class around an engaging theme to keep it fun for the children and usually start with a warm up to song/ music. These sessions are where the children start to work towards the British Gymnastics pre school core proficiency awards.

"Tony, Julie & Sophie are complete stars. They manage to create new themes and class designs every week. They are always cheerful and engage well with all the kids. How they manage to remember all the names is astounding! Amy loves coming and has really gained confidence."

"Oliver really enjoys gymnastics. He talks about it constantly and knows Tuesday means gymnastics! He loves the balancing beams and as I write this I can see the huge smile on his face as he's using the parachute as a carousel."

"Sadie really enjoys her afternoon pre-school class, she loves swinging on the bar. Highly recommend."

"Gabriel has been teaching his pre-school friends and teachers how to do rolly polly's and he has told everyone he learnt them at gymnastics."

"Kye loves jumping on the trampet and doing lots of rolly polies; I am amazed by my sons upper body strength and balance, he has developed this through his Tuesday lunch time classes."
Find us at:
The Laura Trott Leisure Centre
Windmill Ln,
Cheshunt,
EN8 9AJ
Class Times
Tuesday
1:15pm – 1:45pm
1:55pm – 2:25pm
The Laura Trott Leisure Centre
1Find us at:
Blackwater Leisure Centre,
Park Dr,
Maldon,
CM9 5UR
Class Times
Monday
9:45am – 10:15am
Wednesday
1:20pm – 1:50pm
Blackwater Leisure Centre
Frequently Asked Questions
What does my child need to wear?
We ask that your child comes to class in something comfortable and clothing that they can move freely in. Shorts, t-shirt, leggings, tracksuit bottoms are all acceptable for our classes. Some children opt to wear our 'Grundy Park Gymnastics Club' purple leotard and stirrup tights or our 'Grundy Park Gymnastics Club' purple or black t-shirt. Both are available to purchase from us. Children are required to be bare footed for the classes to ensure they do not slip on any of the equipment (unless they have a verruca/foot condition). We also ask for long hair to be tied back and any jewellery to be removed for the class, earring's that have been newly pierced or cannot be removed can be taped.
How and where do I pay for the classes?
Class fees are paid directly to us before or after a session. Payment can be made by cash or cheque, sorry we do not accept any online bank transfers. For many of the classes you are able to pay on a weekly basis however once a class is full we require you to reserve your child's place by paying fees half termly.
Is there a club membership?
All children must be members of the club to take part in the classes. Included in our annual club membership is the membership to the British Gymnastic Association. New members to Grundy Park Gymnastic Club have a 2 week trial period before they need to pay their membership fee.
Can I take photos or film my child during the class?
To comply with child protection policies, we can only allow you to photograph or film your child only. Other children must not be visible in your photo or film. If you would like to take any footage of your child please speak to us before doing so.
Can I watch my child during class?
For all sessions at Laura Trott Leisure Centre (Cheshunt), parents can sit on the side of the hall to observe.
At Blackwater Leisure Centre (Maldon), parents are able to sit outside and watch through the glass window.
For all of our Nursery and Primary School sessions, parents are not allowed into the hall to watch the class due to the school's health and safety regulations.
Price Per Child
Please Note: Classes which are full are required to be paid up front each half term to secure their place within the class, however we always allow beginners to pay as you go for the first 3 weeks.
Get in touch with us today...
If you would like to know any more information then please don't hesitate to get in touch.